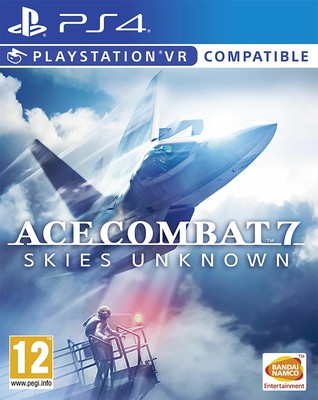 Auction Type :

Buy on Ebay

Condition :

New

Category :

Video Games & Consoles:Video Games

Time left :

14 days, 20 hours, 13 minutes

Ships to :

United Kingdom

Return policy :

Yes (30 days)

Seller :

boss_deals (99.9%)

Stock :

595 Available (595 sold)

Viewed :

14914 times
Product Details
Game Name :
Ace Combat 7: Skies Unknown
Publisher :
BANDAI NAMCO Entertainment
Region Code :
Region Free
Platform :
Sony PlayStation 4
Country/Region of Manufacture :
Austria
Manufacturer Warranty :
1 month
What the Seller Says
FREE UK delivery on all orders PS5 Xbox Series X/S PS4 Xbox One Nintendo Switch PC NOW TV Categories PS5 GAMES PS5 ACCESSORIES XBOX SERIES X/S GAMES XBOX SERIES X/S ACCESSORIES PS4 CONSOLES PS4 GAMES PS4 ACCESSORIES XBOX ONE GAMES XBOX ONE ACCESSORIES SWITCH CONSOLES SWITCH GAMES SWITCH ACCESSORIES PC GAMES NOW TV Ace Combat 7 Skies Unknown (PS4) IN STOCK NOW Brand New & Sealed UK PAL IN STOCK ONLY£15.85 Product Description Leveraging the power of the newest generation gaming consoles, Ace Combat 7: Skies Unknown will blow players away with the evolution of its graphics engine. Beautifully rendered cloud-filled skies and highly detailed cityscapes enhance the sense of unparalleled speed and set the stage for the most engaging aerial battles in the franchise's storied 20-year history. Ace Combat 7: Skies Unknown will provide an arsenal of ultra-modern super weapons and formidable enemies that the series is known for. PlayStation 4 players will be further immersed in Ace Combat 7: Skies Unknown's realism through exclusive missions developed specifically for the Sony PlayStation VR. Features: •Unreal Engine 4 technologies: Breath-taking clouds coupled with highly detailed aircraft and photorealistic scenery makes this the most engaging Ace Combat to date. •Dynamic Weather: Witness the sudden changes during your flight and strive to fight the environmental conditions to take advantage over your enemy. •Virtual Combat: VR missions made exclusively for the PlayStation VR that provide unprecedented flight immersion. •Return to Strangereal World: The alternative Ace Combat universe composed of real-world current and near-future weapons, but with a history steeped in Ace Combat lore.