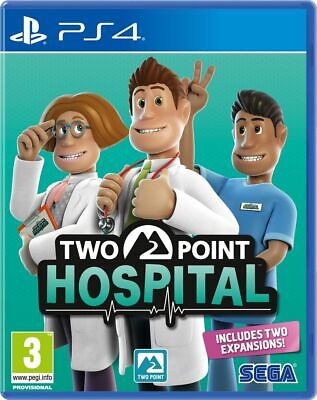 Auction Type :

Buy Now

Condition :

New

Category :

Video Games & Consoles:Video Games

Time left :

4 days, 3 hours, 46 minutes

Ships to :

United Kingdom

Return policy :

Yes (30 days)

Seller :

boss_deals (99.8%)

Stock :

563 Available (563 sold)

Viewed :

14297 times
Product Details
Region Code :
Region Free
Platform :
Sony PlayStation 4
Game Name :
Two Point Hospital (PS4)
What the Seller Says
FREE UK delivery on all orders PS5 Xbox Series X/S PS4 Xbox One Nintendo Switch PC NOW TV Categories PS5 GAMES PS5 ACCESSORIES XBOX SERIES X/S GAMES XBOX SERIES X/S ACCESSORIES PS4 CONSOLES PS4 GAMES PS4 ACCESSORIES XBOX ONE GAMES XBOX ONE ACCESSORIES SWITCH CONSOLES SWITCH GAMES SWITCH ACCESSORIES PC GAMES NOW TV Two Point Hospital (PS4) IN STOCK Free UK P&P New & Sealed IN STOCK ONLY£17.99 Product Description "The hit hospital building management sim comes to console for the first time! BUILD, CURE and IMPROVE: Design stunning hospitals, decorate them as you like, cure very unusual illnesses and manage troublesome staff as you spread your budding healthcare organisation across Two Point County." Design and build your own hospital: Build up a hospital from nothing to a masterpiece as you design the most beautiful – or functional – healthcare operation in the whole of Two Point County. Cure unusual illnesses: Don't expect Two Point County to be populated with your usual types of patients. In this world, you'll experience Two Point's trademark quirky illnesses; from Light-headedness to Cubism – each requiring their very own special type of treatment machine. The County's thelimit: Your first hospital is where it begins, but what next? Once you've cured the residents of a small harbour village, can you take on a bigger challenge in a busier hospital? Improve your facilities, upgrade machines, staff and layouts to make more money, more quickly.